..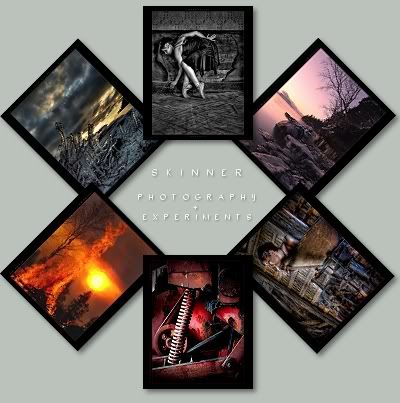 Hey y'all!
I've been away for awhile fighting forest fires here in Northwestern Ontario.. having loads of fun and adventure with my crew. My newest rookie McKay assures me he'll be coming back for another season after we hit a 5 hectare cutover fire a few days ago.. It was an exciting show with the CL-415 water bombers dropping 1400 gallons at a time right in front of us while the flame and smoke made our throats sore and eyes water.. for me (with 350 fires under my belt) it was just another day at the office.. but all my pleasure was derived by watching the look on his face as he saw this stuff for the first time

.. working with the younger firefighters and feeding off their excitement and energy is what keeps me coming back every year. At 39 (soon 40) my body doesn't weather the extreme conditions like it used to.. I'm currently working with a broken toe and sprained wrist.. but still able to carry myself quite well and leave more than one of those young pups in my dust

..I just tell them they need to get their 'bush legs'.
.. here's a sampling of my 'other life' even some of my closest friends aren't aware of: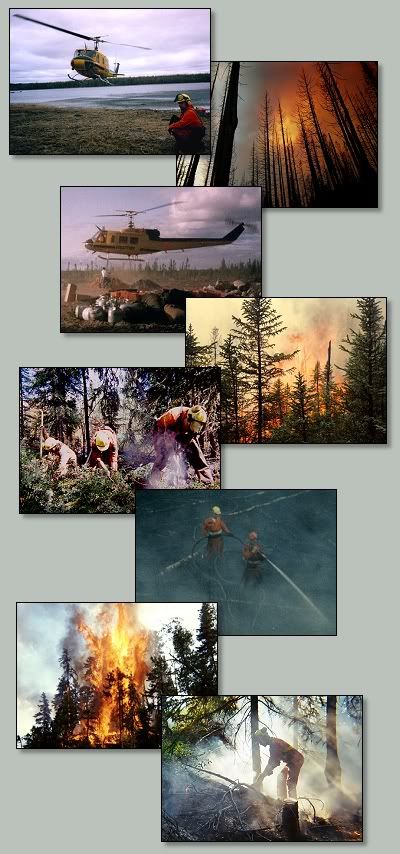 On a different note.. dA pissed me off when they re-located a few of my latest HDR shots.. they call them 'Photomanips'.
I assure you there is no manipulation involved with these shots.. nothing is taken away or added to these pictures.. nothing is pasted or cloned or altered other than the tones and color. In fact alot more work has been going in to the photography side of these pieces than the post-process..
I drive for miles looking for abandoned buildings..carefully picking my locations using natural lighting and sometimes portable studio lighting. My model goes through enormous pains to be dead-still for the multiple long-exposures involved in the bracketing process.. every attention is paid to camera settings.. I'm absolutely obsessed with angles and composition to avoid cropping..
all this to have my photo placed beside someones butterfly (which they didn't photograph) cut and pasted on a computer generated landscape.
It's photography damnit.. in every sense of the word.. the scene in the photo is what I
saw
in front of my camera. It's time for dA and the rest of the photography world to open their eyes and realize that photography is changing with the advent of computers and digital cameras.. and the squabbling over all the puritan nonsense is moot.
These are the moved photos.. I put them in my scraps:
:thumb35357507: :thumb34659595:
:thumb35356720:
:thumb34312181:
Anyway.. sorry I haven't been able to participate around here the way I normally do.. when fire season is over, I'll be visiting all my friends more often .. until then ..just know that I love you all very much as I do my friends IRL .. this site means a hell of alot to me and my photographic aspirations and despite my ranting I still think dA is the greatest site on the net.. hands down.
Be good to yourselves my friends
Love y'all
Skinner
Updated on June 29, 06 :
This was my rebuttal to Garrit (who is kind enough to participate in this debate):
[link]
I've toned down the anger somewhat here in my journal, because I did not intend to offend or attack anyone in particular. I feel my argument has been made and the profound language I originally used no longer reflects my feelings right now and probably was detracting from the argument itself. I would still like to encourage debate so I will leave the message intact. Thank you to everyone who reponded in a mature fashion.. thats what good debate is about.
..I've removed my so-called "photomanips" into my scraps gallery.. because to me the word 'Scrap' is far more dignified than the word 'Photomanipulation'.
I am taken seriously as a photographer here in local galleries, but not where I send customers via business card.. time to create my own personal website I suppose.
~~~~~
RANDOM DEVIANT
RANDOM DEVIATION
</u>
~~~~~
MY PRINT STOREFRONT
latest prints:
:thumb33739321:
:thumb31098848: :thumb31040348:
~~~~~
MY URBAN EXPLORATION PHOTOGRAPHY
~
CellarDweller
This new foray into a genre of photography completely different from my nature stuff has.. artistically speaking.. been an absolute breath of fresh air for me. It's become, in fact, far more challenging and rewarding then I ever would have guessed. I started with rural explorations such as old barns and abandoned farmhouse interiors and branched out into trespassing dangerous old industrial derelict buildings and shooting seedy alleyways at night in the worst parts of town...
~~~~~
MY SKINS, ICONS & WALLPAPERS
~~~~~
MY STOCK
~~~~~
the secret
~~~~~
GROUPS I SUPPORT
`ArtistsForCharity ..members donate a print to be sold with all proceeds going to UNICEF.




~ArtForDeviants ..members donate a print to be sold with the proceeds going toward purchasing site-subscriptions for other deviants..

I'm now a member of ~Urban-Explorers & #UrbanExploration ..devoted and completely addicted to sneaking around in abandoned buildings.

Also a proud member of #NaturPics-club

.... because the Earth matters

.