..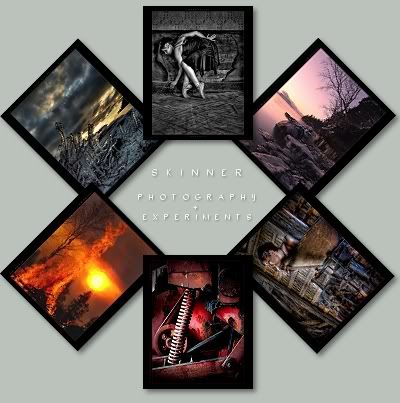 The random deviant button can be a very rewarding link.. the sheer scope and size of the website (which few people in the age of internet marvel over any more) can only be realized by hopping all over the place ...from japanese art to sculpting to poetry to photography to digital art to skins to etcetcetcetc.. so very much incredible talent and desire to create art.
The DeviantART website is quite frankly .. well its a perfect forum for human expression..for art.. one of a kind.
I've met alot of new people recently.. not just fleeting 'hello's' but mutual respects and admirations. Thats the best part of this online experience for me... thank you all.
take care of yourselves.. and to all celebrating them ...a happy and joyous holidays!

Skinner
~~~~~
RANDOM DEVIANT
RANDOM DEVIATION
</u>
~~~~~
FEATURED UNKNOWN ARTIST
updated weekly

I just now felt compelled to expose an artist I found through 'random deviant' whose gallery simply floored me. From now on I'll continue to find these virtually unknown talents and send y'all to say hi!



The requirement for being featured here is this: this artist will have fewer than 2000 pageviews and have been on dA for a year. have a suggestion? .. I'll consider those too! note me.
~poxodd
The color is what first attracted me to this artists work.. but then I had a LOOK.
:thumb34760706:. :thumb44628921:. :thumb33323381:
.
:thumb32792525:. :thumb40846470:. :thumb40527005:
~~~~~
RECENT WOWS
updated weekly
.
. :thumb44319685:
.

.
.

.

. :thumb14293816:.

.

.
. :thumb41448450:
.

.
.

.

.
.



~~~~~

MY SCRAPS GALLERY

My scraps gallery is larger than my main gallery and I'm still rather proud of many of the photos which lie therein.. here's a sampling:


. :thumb35356720:. :thumb14163785:

~~~~~

MY PRINT STOREFRONT

latest prints:

:thumb43444312:
:thumb42699477:

:thumb41893906:


~~~~~

MY URBAN EXPLORATION PHOTOGRAPHY
~CellarDweller

This new foray into a genre of photography completely different from my nature stuff has.. artistically speaking.. been an absolute breath of fresh air for me. It's become, in fact, far more challenging and rewarding then I ever would have guessed. I started with rural explorations such as old barns and abandoned farmhouse interiors and branched out into trespassing dangerous old industrial derelict buildings and shooting seedy alleyways at night in the worst parts of town...





~~~~~

MY SKINS, ICONS & WALLPAPERS
~skinnerstyles

~~~~~

MY STOCK
~wb-skinnerstock

~~~~~
the secret
~~~~~

GROUPS I SUPPORT


`ArtistsForCharity ..members donate a print to be sold with all proceeds going to UNICEF.




~ArtForDeviants ..members donate a print to be sold with the proceeds going toward purchasing site-subscriptions for other deviants..

I'm now a member of ~Urban-Explorers & #UrbanExploration ..devoted and completely addicted to sneaking around in abandoned buildings.

Also a proud member of #NaturPics-club

.... because the Earth matters

.