Presenting the
Photography Olympics
Photo Contest!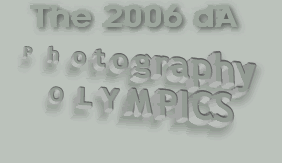 I am extremely pleased to announce the Photography Olympics! A new photo contest where the contestants can represent the country of their choice! Warm up your cameras and go for gold!
CONTEST THEME:
"Come to my beautiful country!"
Contestants will submit photographs depicting their country in any fashion they desire, so long as it compells the viewer to want to visit that country
... spectacular landscapes,
... interesting city scenes,
... cultural portrayals, etc.
... all are fair game!
... and all are welcome to compete!
CONTEST RUNNING DATES:
submissions will be accepted up until March 15, 2006
contest winners will be announced March 20, 2006.
PRIZES:
1st.. 'gold medal' : 18 month subscription to Deviantart
2nd.. 'silver medal': 12 month subscription to Deviantart
3rd.. 'bronze medal': 6 month subscription to Deviantart
Photos will be independantly judged by five judges from five different countries, based on technical, artistic, and asthetic merit using a points system.
This contest is open to all, So come one, come all and show us the beauty of your country!!
CONTEST RULES, NEWS, ENTRIES, AND SUBMISSION GUIDELINES ARE HERE: THE 2006 PHOTOGRAPHY OLYMPICS - Main Page
Good Luck!