..

hey y'all!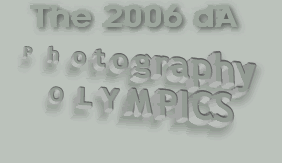 The 2006 PHOTOGRAPHY OLYMPICS results are up on the main contest page!
meet the judges!:
*
horai
*
horai
... Bernie heralds from England and is one of my oldest buddies around here (my fourth watcher..and I don't even know the first three) .. he's a cool hippy-type guy with a tech flare about him..very net-savvy ... and seems to be one of the best-read art lovers and audiophiles I've ever encountered.. he can pull a quote or entire poem out of his ass when need be to describe something..
Bernie is also a generous old boot..he actually (out of the blue) bought me my print account here at dA and then told me not to 'wax lyrical' about it or even think about repaying him ..so I haven't

*
Ellygator
*
Ellygator
...Elly is from the state of Texas and is perhaps the single most creative woman I know.. although photography is not her forte, she does dabble in it. Her impeccable taste for art and design shines through in all her thoughtful comments... she talks about 'flow' and 'muted colors' with such a passion it's easy to tell she has very clear artistic vision. Elly is an incredibly talented craftsperson, designing her own jewelry, stained glass etc. as well as a remarkable sketch artist. I've probably left out as many talents as I've mentioned here, but just take a look at her gallery to see what I mean.
~
BeyondTheHorizon
~
BeyondTheHorizon
... Per is an incredibly friendly guy from Denmark, a deeply emotional person who seems to have a large capacity for love and the simpler things in life. In fact he met his soul mate just last year here at dA and has since traveled far and abroad to be by her side.. truly a great love story has unfolded for this man right here on this very website!
Per's art reflects his emotional depths ...his minimalistic and often very conceptual photography is truely a testimony to his gentle and original style. I had a surprise phone call from Per the other day, and after knowing him online for over a year, to actually hear his voice for the first time was a great and memorable event for me..
~
billsabub
~
billsabub
...Bill (or 'Bills' as I call him) and I go back about 2 years ..he was roughly my 30th watcher. Although we don't converse frequently, I've always felt a mutual respect exists between us... almost as if we share an unspoken 'bond of the photographer' We'll drop by to comment on each others work occasionally ... (actually I've looked at every photo the man has ever done..and not without a tad of envy at his remarkable technical skills.) ..and every once in awhile exchange a flurry of notes talking on a more personal level. My admiration for Bills photography is always growing as his skills grow also. He has an amazing gallery full of genre-diversity and technique exploration.. as well as alot of great Japanese cultural portrayals. Go see it!
~~~~~
RECENT WOWS:
:thumb6181785:
:thumb6149503:
(if you can't click the thumbs, right-click 'em and 'open link')
~~~~~
Some lesser known photos of mine buried waaaay back in my gallery:

:thumb25093864:


~~~~~

MY PRINT STOREFRONT

~~~~~

MY SKINS, ICONS & WALLPAPERS

~~~~~

MY STOCK

~~~~~
the secret
~~~~~

GROUPS I SUPPORT


`ArtistsForCharity ..members donate a print to be sold with all proceeds going to UNICEF.




~ArtForDeviants ..members donate a print to be sold with the proceeds going toward purchasing site-subscriptions for other deviants..

I'm now a member of ~Urban-Explorers ..devoted to sneaking around in abandoned buildings.

Also a proud member of ~GreenDA and #NaturPics-club

.... because the Earth matters