Am I really watching the same people who don't like cartoon characters of their prophet burning mosques to the ground?
I'm not completely religious, but the thought of throwing (in anger) the smallest pebble at a church makes me cringe in fear of sudden lightning bolts.
I'm trying to understand.. and at risk of not sounding completely nuetral in the matter, will stop at that.
My murder-mystery dinner is in three days and I'm getting pumped! I'm playing a partially insane escapee from the loony bin, posing as the chef at the event.....

"HOWZ THE SOUP FOLKS?!"

Be good to yourselves.
.. and read on damnit.
WB
~~~~~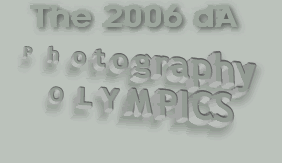 CONTEST NEWS - FEB 23
</b>
The
2006 Photography Olympics
is rolling along.. the initial entry flow is trickling down as expected..
We have up until the posting of this journal 35 entries representing 18 (or so) countries! ..not a bad start for the first week but with three weeks remaining we'd love to see the competition heat up with 100+ entries.. so c'mon and give it your best! All the entries can be seen on the shoutboard of the contest page.
The USA is showing strong with 10 entries.. Saudi Arabia, the UK, and Sweden are in with 3 entries each! Where's Isreal? Nigeria? Fiji? (ya you Rev) Russia? etc etc etc... get in!

I hope all the photogs out there are giving thought to representing their country when they're out with the camera

STILL ACCEPTING ENTRIES UNTIL MARCH 15
Please read the contest rules, submission guidelines, and FAQ before you enter
The Judges (other than myself from Canada):
*
horai
(UK), *
Ellygator
(USA), ~
BeyondTheHorizon
(Denmark), and ~
billsabub
(Japan)
These judges have all agreed to contribute to the winnings in this contest.. great people and great supporters of art and the dA community!
~~~~~
RECENT WOWS:
:thumb28788202:
:thumb29053092:
(if you can't click the thumbs, right-click 'em and 'open link')
~~~~~
Check out
MY PRINT STOREFRONT
and help a hungry artist!
well ok...I'm not hungry but still would appreciate it greatly

~~~~~
MY SKINS, ICONS & WALLPAPERS
I've be kicking out some desktop wallpapers (1280x1024) made from some of my prints ...
the lightbulb wallpaper got a DD the other day!.. w00t!
~~~~~
MY STOCK
~~~~~
GROUPS I SUPPORT
`ArtistsForCharity ..members donate a print to be sold with all proceeds going to UNICEF.




~ArtForDeviants ..members donate a print to be sold with the proceeds going toward purchasing site-subscriptions for other deviants..

Also a proud member of ~GreenDA and #NaturPics-club

.... because the Earth matters