I'm just floored by a couple of Canadian politicians arguing about whether or not to hold parliamentary discussions concerning our military's new role as lead-force in Afghanistan. One guy has the nerve to still use the word 'peacekeeping'.. PEACEKEEPING MY ASS!
It's a full fledge war zone
again
over there with the Taliban on the offensive.. just yesterday one of our soldier/correspondant types was sitting at a meeting with some town elders when a flipped out fanatic stuck an axe in the side of his head.. our soldiers are dying at an alarming rate over there and this jaggoff has the nerve to use the word 'peacekeeping'!
Doesn't ANYONE remember what the Afghans did to the Russians?? This is not even a war ..this war on terrorism. Its an undefined
mess
is what it is. And yes..I'll get political here.. cause I'm damn angry..
The leaders of the western world are out of thier minds if they think they'll ever make hard-core Islamic states into perfect little democratic countries where everyone has a house, a good job, and drives a Volkswagen. It's just not realistic. So if that isn't the goal..what is?
Can someone answer this question? How is this war on terrorism won? ..When is it declared OVER?.. or won? ..or lost? Won't there always be people left who hate the capitalist world? Aren't we making
two
'enemies' whenever
one
is killed?
Here's both sides of the coin as seen from my western-world limited perspective:
THEORY #1 :
Leave the middle east alone.. swallow the over-inflated capitalist pride and stop making war in foreign countries.. stop giving anyone a
reason
to hate having a foreign policy shoved down thier throat. Abandon ALL interests (political, ideological, and economical) in the Middle East, pull the troops out, and admit defeat..
pros:
western-world soldiers will go home to thier families ...thousands of lives will immediately be spared. 'terrorism' goes away because it is no longer necessary.
cons:
Saddam-like regimes will flourish again.. the Taliban comes back to power. Human rights will be trampled again ... price of oil sky-rockets. Iran gets the Bomb. Isreal gets invaded or anihilated..fights back and takes a few neighbors into total destruction with them.
THEORY #2 :
Stay the coarse. Fight until every western-world-hater is dead, whether it takes 100 years or not. Fight the propoganda war until there are overwhelmingly more supporters of democracy than Islamic law or totalitarianism and every country in the world has conformed to the western world notion of human rights, equality and freedom for all.
pros:
there is a small chance that eventually (and
very
eventually) all countries are democratic, human rights are restored, and there are no more rogue-states with WMD's.
cons:
Millions will die in battle. Free countries will continue to live in fear of terror attacks for years to come. Fundemental Islamic doctrine will become diluted as it mixes with the rules of democracy. Trillions of dollars will be spent on the war efforts as opposed to being spent on worthy causes.
Do you see how damn confusing this whole thing is? Answers are not entirely clear any more. It may have gone too far to just pull out. That makes George Bush right! uggh.. the very thought makes my toenails curl!
I'd love to hear some opinions on this.. especially from my Muslim friends.
love y'all
Skinner
~~~~~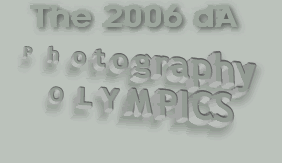 CONTEST NEWS - MARCH 06
</b>
The
2006 Photography Olympics
continues to roll along.. nine days left and 84 entries! ...16 more entries and we've got the 100 we were hoping for! .. lets have em folks!
I'm VERY happy with the turn out and photo quality so far!

I hope all the photogs out there are giving thought to representing their country when they're out with the camera

STILL ACCEPTING ENTRIES UNTIL MARCH 15
Please read the contest rules, submission guidelines, and FAQ before you enter
The Judges (other than myself from Canada):
*
horai
(UK), *
Ellygator
(USA), ~
BeyondTheHorizon
(Denmark), and ~
billsabub
(Japan)
These judges have all agreed to contribute to the winnings in this contest.. great people and great supporters of art and the dA community!
~~~~~
RECENT WOWS:
:thumb29287886:
:thumb28263152:
:thumb29507061: :thumb29503959:
(if you can't click the thumbs, right-click 'em and 'open link')
~~~~~
Check out
MY PRINT STOREFRONT
and help a hungry artist!
well ok...I'm not hungry but still would appreciate it greatly

~~~~~
MY SKINS, ICONS & WALLPAPERS
I've be kicking out some desktop wallpapers (1280x1024) made from some of my prints ...
the lightbulb wallpaper got a DD the other day!.. w00t!
~~~~~
MY STOCK
~~~~~
GROUPS I SUPPORT
`ArtistsForCharity ..members donate a print to be sold with all proceeds going to UNICEF.




~ArtForDeviants ..members donate a print to be sold with the proceeds going toward purchasing site-subscriptions for other deviants..

I'm now a member of ~Urban-Explorers ..devoted to sneaking around in abandoned buildings.

Also a proud member of ~GreenDA and #NaturPics-club

.... because the Earth matters