hey folks!
Just a quicky-journal to get some honest opinions and feedback about this new calendar project I'm working on ... here are 3 pages: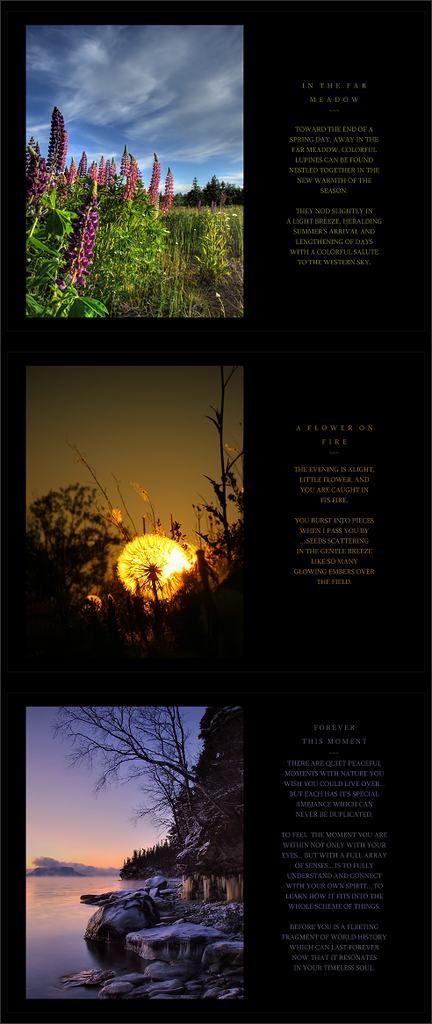 Since many of my best shots are vertical ' portrait ' format, I've decided to use the space remaining on each page to include my writings for each photo.
I'm not sure if the dA print shop can do black 'date' pages to match these photo pages. If not, I may have to settle for just selling locally (my print shop here in town can do this). Either that, or I suppose I could re-do these pages with a white background.
Your thoughts about this style would be greatly appreciated!
~~~~
contest news!
I've agreed to feature the winner of
Abandoned Places
, a contest being hosted by ~
otsego-amigo
and *
Karakuji
. The deadline for this contest is November 11, so get your urbex-loving asses over there and submit a photo!
Also I will be a judge in the
Big Cats
contest being hosted by ~
leocbrito
. The deadline is November 7 and there are some very nice entries already. What are you waiting for?

~~~~
I just want to say a HUGE thanks to all the people who have supported my photography, bought my prints, and added me to their watch lately.
Love Y'all!
Skinner
~~~~~
'A Gift of Seasons - 2009'
a brand new calendar featuring some of my better landscape-format prints suitable for the seasons. I hope you will consider it as a gift for a loved one perhaps... a gift of seasons.

.