..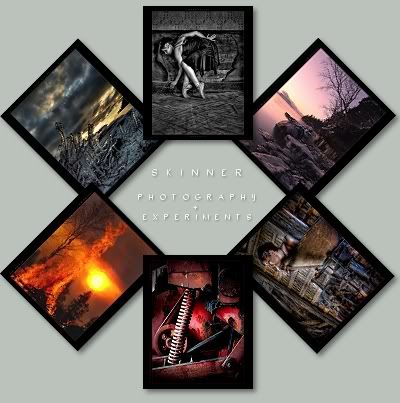 Hey everyone!
A quick journal to wish everyone a Happy New Year! ..hope your holidays were as great as mine

I had my daughter
Lauren
down for a visit (she lives 400km away with her mom) so that brought it all together for me. Also my new lady Debbrah and her kids have all moved in now and we've fixed up my house with some paint and new furniture.. all cozy-like with a womans touch y'know? ..feels alot more like home now.
I decided to feature some of my friends for ya! ...also a new batch of 'recent wows' there...check 'em out!

I want to thank everyone for the great support you've shown my photography.. and especially all those who bought my prints before the holidays.. that was a great bonus to the 'ol pocketbook at a time when its needed! .. hope they look good on your walls!
Be good to yourselves and those around you.
Skinner
~~~~~
RANDOM DEVIANT
RANDOM DEVIATION
</u>
~~~~~
FEATURED ARTISTS
updated from time to time

I've decided to feature some under-exposed artists (instead of the strictly unknowns) with some great talent.. won't always be photography, but they'll be selected from the folks who support my work.. go check them out... you won't be disappointed!

~silentmode

A great new nature photog from Austria, much like myself he dabbles with HDRI:


.
.



~MattAnth

A small but very nice gallery from the UK


.
.



~Alon-O

An old buddy of mine from Israel:


.
.
~~~~~
RECENT WOWS
updated from time to time
.
.
.
.
.
.
.
.
.
:thumb44959684:.
. :thumb44546158:
.
.
. :thumb45114726:
.
:thumb44474297:. :thumb43198218:.
~~~~~
MY SCRAPS GALLERY
My scraps gallery is larger than my main gallery and I'm still rather proud of many of the photos which lie therein.. here's a sampling:
. :thumb33539712:. :thumb44469952:
~~~~~
MY PRINT STOREFRONT
latest prints:
:thumb43444312:
:thumb42699477:
:thumb41232779:
~~~~~
MY URBAN EXPLORATION PHOTOGRAPHY
~
CellarDweller
This new foray into a genre of photography completely different from my nature stuff has.. artistically speaking.. been an absolute breath of fresh air for me. It's become, in fact, far more challenging and rewarding then I ever would have guessed. I started with rural explorations such as old barns and abandoned farmhouse interiors and branched out into trespassing dangerous old industrial derelict buildings and shooting seedy alleyways at night in the worst parts of town...
~~~~~
MY SKINS, ICONS & WALLPAPERS
~
skinnerstyles
~~~~~
MY STOCK
~
wb-skinnerstock
~~~~~
the secret
~~~~~
GROUPS I SUPPORT
`ArtistsForCharity ..members donate a print to be sold with all proceeds going to UNICEF.




~ArtForDeviants ..members donate a print to be sold with the proceeds going toward purchasing site-subscriptions for other deviants..

I'm now a member of ~Urban-Explorers & #UrbanExploration ..devoted and completely addicted to sneaking around in abandoned buildings.

Also a proud member of #NaturPics-club

.... because the Earth matters

.