..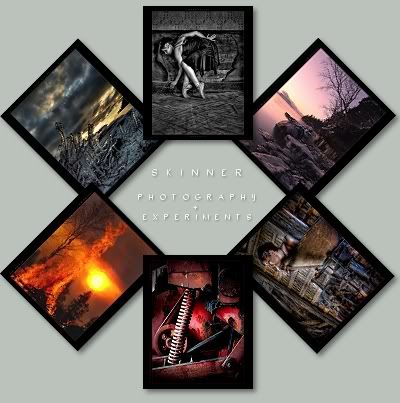 Hey everyone!
I quit smoking again.. since Wednesday ... and it's tough. 24 years of coffin nails has left my 40-year-old ass with no choice. I'm in decent shape due to my profession and my hiking, but my lungs are not recuperating the way they used to. Physically I already feel better..
but mentally?

On another note.. I was really happy at the response to my latest work. I've been out hiking the ice lately and finding some great material. Best of all, being intimate with the great outdoors. ... it is soul medicine. There has been some great drama in the sky lately and the weather has for the most part been cooperating.
To my new watchers.. I want to say thank you and tell you I promise to bring the beauty of my homeland to your screens. I'm a seasonal photographer and do most of my shooting during the winter, as I work horrendous hours through the summer fighting forest fires. Thus, if I seem somewhat prolific, its only because I have the luxury of shooting almost every day during the winter months. I hope you will enjoy the images I put forth and know they are the result of many long hours out in the cold.. a labour of love though

Anyway, I've delved into many galleries lately and come up with a new batch of 'WOWs' for ya as well as some great artists that deserve a bit of your attention.. enjoy!
and remember..be good to yourselves and those around you.
Skinner
~~~~~
RANDOM DEVIANT
RANDOM DEVIATION
</u>
~~~~~
FEATURED ARTISTS
updated from time to time
*eswendel
.
.


~~~

*tfavretto


.
.


~~~

~Fishermang


.
.
~~~~~
RECENT WOWS
updated from time to time
.
. :thumb46919600:
.
.
.
.
.
.
.
.
.
.
.
. :thumb39654211:
.
.
.
.
.
. :thumb47051786:
~~~~~
SCRAPS
My scraps gallery is larger than my main gallery and I'm still rather proud of many of the photos which lie therein.. here's a sampling:
. :thumb33539712:. :thumb44469952:
~~~~~
SKINNER PRINTS
latest prints:
:thumb42699477:
:thumb41232779:
~~~~~
URBAN EXPLORATION
~
CellarDweller
This new foray into a genre of photography completely different from my nature stuff has.. artistically speaking.. been an absolute breath of fresh air for me. It's become, in fact, far more challenging and rewarding then I ever would have guessed. I started with rural explorations such as old barns and abandoned farmhouse interiors and branched out into trespassing dangerous old industrial derelict buildings and shooting seedy alleyways at night in the worst parts of town...
~~~~~
NUDES
~
skinnernudes
~~~~~
DESKTOP GOODIES
~
skinnerstyles
~~~~~
STOCK
~
wb-skinnerstock
~~~~~
GROUPS I SUPPORT
`ArtistsForCharity ..members donate a print to be sold with all proceeds going to UNICEF.




~ArtForDeviants ..members donate a print to be sold with the proceeds going toward purchasing site-subscriptions for other deviants..

I'm now a member of ~Urban-Explorers & #UrbanExploration ..devoted and completely addicted to sneaking around in abandoned buildings.

Also a proud member of #NaturPics-club

.... because the Earth matters

.